2009 Indian Point Buck of the Decade
Date: March 19, 2019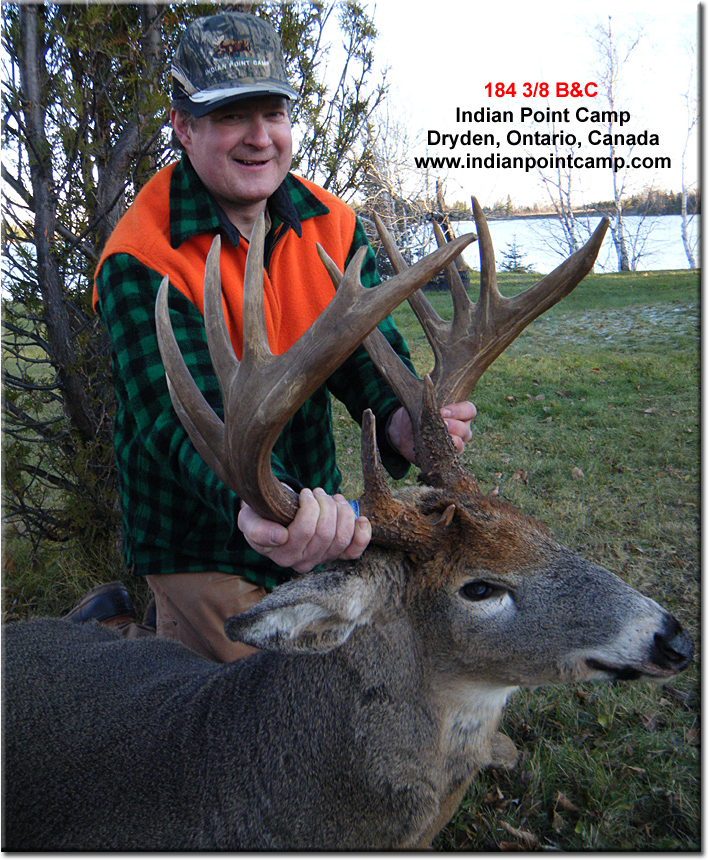 This beautiful Whitetail Buck was harvested in the fall of 2009 near Dryden, Ontario. The Buck scored 184 3/8 B&C, now that's an impressive Rack!
It all started on November 15th, 2009, a day Tim a tenacious white-tail hunter from Vermont, USA  will never forget.  Tim and his party of 3, including Les & Greg arrived at Indian Point Camp on November 12th.
Friday was devoted to scouting and set-up and by the end of the day a plan was in place. Mother Nature even cooperated, providing chilly nights, some snow from the previous storm and calm winds for the most part.  Saturday was indicative of the type of hunt Northwestern Ontario provides, observe the sign, hunt the sign and wait. All the accessories help to, i.e. de-scent, deer scent, rattling and a variety of appropriate calls. It is a patient hunt up here, sitting in a ground blind or tree stand for hours on end is an endurance test of its own. But opportunities will come.
Sunday was the best day. Tim, Les & Greg were in the bush by daybreak. Deer sign from the previous two days dictated the perfect spot for Tim's tree stand, 15 feet from the ground and lots of visibility. It's advantageous to get settled early, even though the action might not take place for several hours later. The deer movement is not quite like that of our Southern counterparts, early morning and late evening. No, the majority of our deer activity is in the middle of the day, 10 am to 2 pm.
And so it happened. It started about 1 pm. As Tim patiently waited, he appeared. A nice 8 point to his right, a shooter by anyone's standard. But Tim was waiting for something a little more massive. He forced himself to lay his gun back down on his lap. The 8 pointer was focused in a definite direction and as Tim followed the buck's line of sight a 10 pointer was walking down the logging road left of his stand. This buck was going down. But this buck also was focused. Tim took the time to observe and assess. Deer stop, stare and listen for a reason. As Tim followed the 10 pointer's line of sight, there he was, he couldn't count all his points, but it was a buck of two lifetimes. Tim had the time to range him and the shot sent the buck in to the bush. It was a definite hit. It all took about 15 minutes, from the appearance of the first buck to the first shot. Tim slowly got down from his stand and walked over to the scene, there was no blood. He tracked the big buck for 300 yards and there was a drop…the hunt will go on. The bush was thick with lots of blow down. Another 200 yards and there he was between the trees, another shot and another hit. The buck moved again. Tim tracked the buck, in total, for 1/2 mile. One more shot finished the big buck off. Up until this point, no one could have envisioned just how big he was. Fourteen points and 235 lbs. dressed. His antlers were massive, a buck of two lifetimes. The fun had just begun.
There was now 1 1/2 hours of daylight left. Tim needed help. Contact was made with Les & Greg and Tim would really find out who his friends were. You see, Tim has a serious problem with Gout in his ankles and knees, so the line goes. The drag was on and the major decisions were whether to go over the blow downs or under. Concerns were arising back at camp also. Legal hunting is over at 5 pm. It's now 7 pm…8pm, maybe the party stopped in town for dinner. It's now 9 pm…9:30 pm. The decision was to wait until 10 pm and then take some appropriate action. At 9:55 pm, truck lights came down the camp drive way. It was the big buck and the party of three. The whole camp was pumped for the rest of the week. What a buck!
Officially green scored at 184 2/8 gross typical and 164 4/8 net typical. What a hunt! Tim, Les & Greg will be back. But Tim is done for this life time and the next, maybe the one after that.
Now it's exactly one decade later. We challenge all Deer Hunters in 2019 to bring in another Trophy like this Buck! Be patient they are out there..
Sincerely your Team at Indian Point Camp